The Mighty Wurlitzer Organ
You can hear our Mighty Wurlitzer theatre organ played during the intermissions before and after the 7:30 show. Depending on the day of the week, you will hear one of these Masters of the Mighty Wurlitzer: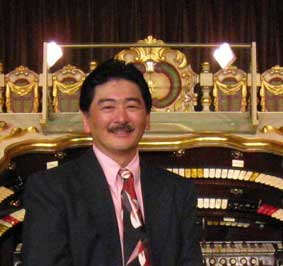 Jerry Nagano (na-GA-no, not NA-ga-no) was born and raised in the Los Angeles area where he began his musical training at age ten. From the very beginning the movies played a major role in his musical life. It was because of attending a silent movie show accompanied by the Mighty Wurlitzer that Jerry took an interest in the organ. After instruction on electronic organ for a period, he had a chance to study with organist Gaylord Carter, the very person who played for that silent film years before.
During his college years, Jerry was also the organist at the Pasadena Civic Auditorium playing their fabulous Moller Pipe organ.
Upon moving to Northern California, Jerry became a member of the staff of the Stanford Theater. For ten years he was the featured artist at the famed Ye Olde Pizza Joynt in the Bay Area, home of the "Wurlitzer in the Pizza Parlor" concept. In 2017, he was named "Organist of the Year" by the American Theatre Organ Society.
Aside from a very busy musical life, during the day Jerry is a Computer Systems Engineer for Stanford University.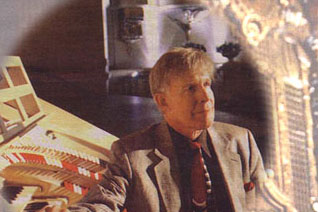 David Hegarty received his education as an Organ Performance major at Loma Linda University (BA), Andrews University (MM), and continued with doctoral studies at the College-Conservatory of Music of the University of Cincinnati with Wayne Fisher.
He is a prolific composer and arranger, having served on the staff of Lorenz Publishing Company, and as editor of "The Sacred Organ Journal." He is also published with Broadman Press, Hal Leonard Publications, Sheet Music Magazine, and Hegarty Music Press, which publishes his Introduction to Organ Playing, and MIDI materials for the Allen Organ Company.
As a concert artist, David has appeared in such diverse venues as Washington DC's Kennedy Center, San Francisco's Davies Symphony Hall, the Crystal Cathedral, Prudential Lines South American Cruises, and as a guest organist with the Oakland Pops Orchestra.
In addition to his regular appearances at the Stanford Theatre, he is well-known in the Bay Area as the senior staff organist of the Castro Theatre (since 1978) and for his monthly pops concerts at the California Palace of the Legion of Honor. He now devotes a portion of each month to teaching and performing opportunities in New York City. (more)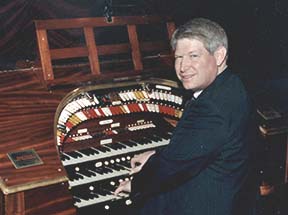 Bill Taylor (Organist Emeritus) appeared regularly at the Stanford Theatre since its reopening in 1989. He began playing the organ at age 7, and played his first theatre pipe organ when he was 11. He studied theatre organ with famed San Francisco area organist, Larry Vannucci who, many years later, also played at the Stanford Theatre.
While they were still in high school, Bill and his brother Dick restored and installed a Wurlitzer pipe organ in the Encore (formerly Broadway) Theatre in Burlingame, and Bill played the organ for intermissions. He has also appeared at several other Bay Area theatres.
He has a BS in Electrical Engineering and Computer Science, and an MBA from the University of California, Berkeley. His primary career was as a Software Development Engineer at Network Appliance in Sunnyvale.
Bill retired from playing organ at the Stanford Theatre in June 2023.
Silent Film Accompaniment
Silent films at the Stanford are accompanied by the Mighty Wurlitzer, most often by Dennis James.
Dennis James
Dennis James was born and raised in the Philadelphia area where he began his musical training at age seven, and played his first pipe organ at age eight. From the very beginning, silent movies played a major role in his musical life for it was from watching silent movies on television that Dennis took an interest in film music scoring. After instruction on electronic organ, he pursued opportunities to study with veteran professional theatre organists Leonard MacLain, Dr. CAJ Parmentier, Esther Higgins, Lowell Ayars, Lyn Larsen, Tom Hazelton, Gaylord Carter and Lee Erwin, plus concert organ training with George Van Os, Keith Chapman and Oswald G. Ragatz.
Dennis James received his education as an organ performance major at Indiana University (BMus), (MMus), and continued with post graduate studies at Ohio State University and at Arizona State University. While he was in college, Dennis helped restore an Estey pipe organ once played by Hoagy Carmichael that was formerly in the Princess Theatre in Bloomington, Indiana, and he played that organ for campus silent film screenings. He also appeared as intermission organist at the Paramount Theatre in Anderson, Indiana and scored silent films at the Rivoli Theatre in Indianapolis, Indiana.

Now retired from a forty-three year career as a professional theatre organist, he served as staff musician for the Lansdowne (PA), Brookline (PA), Ohio (Columbus, OH), El Capitan (Hollywood, CA), Paramount (Seattle, WA), Washington Center (Olympia, WA), Everett (WA), Coleman (Miami, OK), and Lynwood (Bainbridge Island, WA) Theatres. As a touring concert artist, Dennis appeared in such diverse venues as Vienna's Konzerthaus, London's Queen Elizabeth Hall, New York's Lincoln Center, and he had his concerto debut with the Chicago Symphony Orchestra. He was a frequent featured artist at various theatre organ venues throughout the United States, Canada, Australia, New Zealand, England and The Netherlands.
Dennis has performed silent films at the Stanford Theatre since 1993 and is well-known in the Bay Area for having been the principal silent film organist at the Castro Theatre (1973 - 2013) and for introducing historically informed scorings for silent film screenings at Oakland's Paramount Theatre, San Jose's California Theatre and San Francisco's Davies Symphony Hall.
Dennis was a Lecturer for Glass Music Studies (2011-2015) initiating the program for the Mason Gross School of the Arts at Rutgers University.
Dennis was once married, has no children, and lives near to Corning, New York.